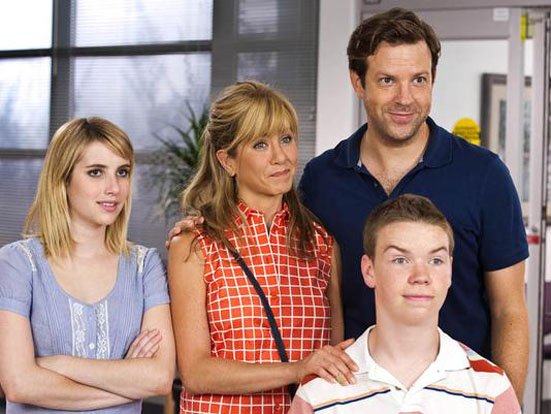 Directed by Rawson Marshall Thurber.
Jason Sudeikis
Jennifer Aniston
Emma Roberts
Will Poulter
Ed Helms
Nick Offerman
Kathryn Hahn
Molly C. Quinn
Tomer Sisley
Luis Guzman
Thomas Lennon
David (Sudeikis) is the local weed man in the Denver community where he lives. Yeah, I know. Circumstances dictate that he desperately needs to repay a debt to his supplier Brad (Helms). Brad tells him all will be forgiven if he goes down to Mexico and brings back "a smidge, smidge and a half" of weed. David hatches a plan to pose as a family hoping that he won't get harassed by Border Patrol that way. Since he doesn't have a family of his own, he has to recruit one. He gets troubled, but very different teens Kenny (Poulter) and Casey (Roberts) to play his kids. To complete the picture he gets Rose (Aniston), the stripper who lives across the hall and is facing eviction, to play his wife. And away we go.
Early on,
We're the Millers
does what it sets out to do. It makes us laugh. While Sudeikis is getting in lots of great lines, much of the humor comes from Kenny's naivete. Jennifer Aniston continues to poke fun at herself for, of all things, being her age and still looking great (see most of her movies in the last decade). The situations are appropriately zany, giving us the giggles on that front. Finally, Ed Helms is a riot. It all adds up to the first two thirds being fast and fun.
As it must in all movies, the third act eventually comes. When it does, things take a turn for the mundane. It's not really all that bad, just generic. In place of all the sizzle of the earlier parts, we get a steady descent into sentimentality. The filmmakers seem hell bent on making the ending as cute as possible. It comes off as them taking the easy way out. To do this, all of the loose ends are tied too neatly. This leads to predictability. In fact, nothing unexpected happens as the movie rushes toward its climax. Action picks up and the laughs mostly subside. Action and happy endings aren't inherently good or bad, but in the context of
We're the Millers
they're the expected and, therefore, less satisfying outcome.
Being pretty good for two thirds of the run time, however is a fate that befalls many a comedy. In trying to solve their conflicts, the last third is often filled with shootouts, explosions, and getting everyone happy. This is no different. In fact, it follows that pattern to a tee. Thankfully,
WtM
successfully humors us early, making it easy to forgive its flaws. It's still not enough to make us completely overlook them. If you don't laugh early, then forget it because it's not getting any better. For those of us that do, even if we have a number of deep belly laughs, we can't help but think it could've been much better.