Directed by Ricki Stern and Anne Sundberg.
2011. Rated R, 84 minutes.
Cast:
Joan Rivers
Jocelyn Pickett
Billy Sammeth
Melissa Rivers
Kathy Griffin
Don Rickles
Hip-hop icon Jay-Z once rapped "I'd rather die enormous than live dormant." This is the mantra Joan Rivers seems to live by. She loves riding in limousines, wearing expensive things, living in a glamorous home and having people for whatever she needs. She works extremely hard to afford this lifestyle. She remarks several times how she could retire and live more modestly, but refuses to do so. This is the surface of
Joan Rivers: A Piece of Work.
Her tireless efforts to maintain and grow her brand make up our action scenes. These are made all the more amazing by the fact we're watching a 75 year old woman with more energy and drive that most people who've never known a world in which she was not a celebrity.
The dramatic scenes are made up of finding out where that drive comes from. Like the aforementioned Jay-Z, there is much bravado to Ms. Rivers. She fully maxes out the tough, old biddy persona. Publicly, there is nothing that can't be handled with a sharp, expletive laced tirade. Away from the stage and glare of TV lights, we get to see the cracks in her armor. It turns out, Joan is hopelessly insecure. This insecurity propels her far more than her love of excess, though the two traits complement each other quite well. For our purposes, these unguarded moments make for compelling drama. They fill in the blanks created by the caricature she's presented to us for decades.
Along the way, we meet many different facets of the legendary comedienne. After all, the cameras followed her around for a year. We see her as a mother, grandmother, humanitarian, playwright, actress, and of course, businesswoman. We get bits and pieces of many performances, as well. She works everything from a rinky-dink, hole in the wall club in Queens to 4,000 seat theaters in Vegas with the same passion.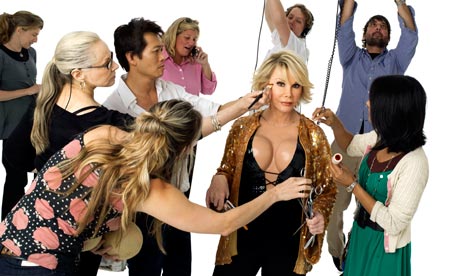 We also get plenty of clips from the past. All of it is envelope pushing stuff. We hear her say some things that she acknowledges would be tame today, but were downright racy at the time. We see how these things paved the way for today's comediennes, including herself and her own evolving act in which she talks freely about why she likes anal sex. Uptight, she is not.
There are some things glossed over. Most noticeable is the issue of her multiple plastic surgeries. She speaks briefly about them, acknowledging she went from being the poster-child of the nip/tuck industry to the butt of the jokes about it. She laments facing the jokes head-on when she agrees to be the guest of honor on a Comedy Central roast. However, she never really opens up about the whens and whys of her going under the knife. Just from reading this review we can get an inkling of her reasons. Still, it would've been nice to hear her articulate them.
Even without a great revelation about what she's done to her face, "A Piece of Work" is a fascinating watch. We learn things about her we may not have know. We also get a glimpse inside the life of a really hard working woman. Best of all, this is accomplished without the heavy-handed slant toward creating conflict that hers and most reality TV shows suffers from. In the end, it's probably not enough to turn Joan haters into Joan fans. However, it should give us newfound appreciation for all the things she's gone through and accomplished.