I work in a school. That means that if you're reading this on the day I'm posting it, I'm finishing up my first week back at work after two weeks of sitting at home. Guess what I did a lot of while waking up every morning with no particular place to go. Yup, I watched a lot of movies. I've got a handful of them for you. Since this is an edition of The Quick and Dirties, the first of the New Year, I like to put a them to my groups of films. I've already done two editions of "Girl Power" plus a Ladies' Night. Time for the fellas to get some shine. Here we go...
(2015)
At the end of the first
Magic Mike
, life seemed to be all peaches and cream for our hero, obviously named Mike (Channing Tatum). Three years later, we find out he's gotten more than he bargained for. His furniture business is struggling mightily. He consistently runs the risk of not being able to pay his only employee. Lo and behold, his old stripping buddies track him down, let him know they plan on getting out the shakin' ass for cash game, but want to do so with a bang. That means they've loaded up in an RV and are heading to Myrtle Beach for a big, greasy muscle convention. No, not that muscle. Well, maybe. I mean stripper convention. Moving on. Mike declines the offer. Then, in a moment of solitude, Ginuwine's "Pony" happens to come on the radio, he breaks into routine. Yes, it's the same routine I wish I could do, but can't. Or, won't even try for fear of ruining the illusion of sexiness I pulled over Mrs. Dell's eyes. Anyhoo, this is enough for him to change his mind. Road trip! To be honest, it doesn't play any differently than any other movies within that sub-genre except that every stop affords our boys, and other boys, an opportunity to rip their clothes off. These stops include a gas station convenience store, a house full of rich cougars, and Rome's (Jada Pinkett Smith) mansion stocked full of fresh strippers. By the way, one of these "fresh" ones is Andre who is played by Donald Glover, aka (excellent) rapper Childish Gambino, aka Troy from
Community
. I'm a fan of his acting and his music, but that brother should keep his shirt on in public. This is especially true when the likes of Channing Tatum and Stephen "Twitch" Boss are lurking about without theirs. It's pointless and rather sad to look at, like me playing basketball on a court adjacent to where LeBron James and Stephen Curry are putting in work. Just for good measure, Tatum and Twitch combine to provide a marvelous finale that is easily among the best stripping sequences in legitimate cinema history. Trust me, it takes lots of balls for a straight dude to say, so it must be damn good. The movie's overall spot in cinematic history is not quite so lofty. It's not a bad movie, by any means. In fact, it's actually quite fun. However, aside from a few of the skin-filled scenes, and a wonderful extended cameo by Andie MacDowell, there really isn't anything memorable. In comparison to the original, it's not as good a "film," but the more entertaining "movie," and more likely to be rewatched. Steven Soderbergh , director of the first film, made his outing an artsy drama with pockets of comic relief that just so happens to be about strippers. For
XXL
, Gregory Jacobs gives us a pretty straight-forward comedy aimed at titillating its audience rather than engaging them in an intellectual capacity. Therefore, even though the plot is shallow as an evaporating puddle and pointless as a circle, it succeeds with flying colors.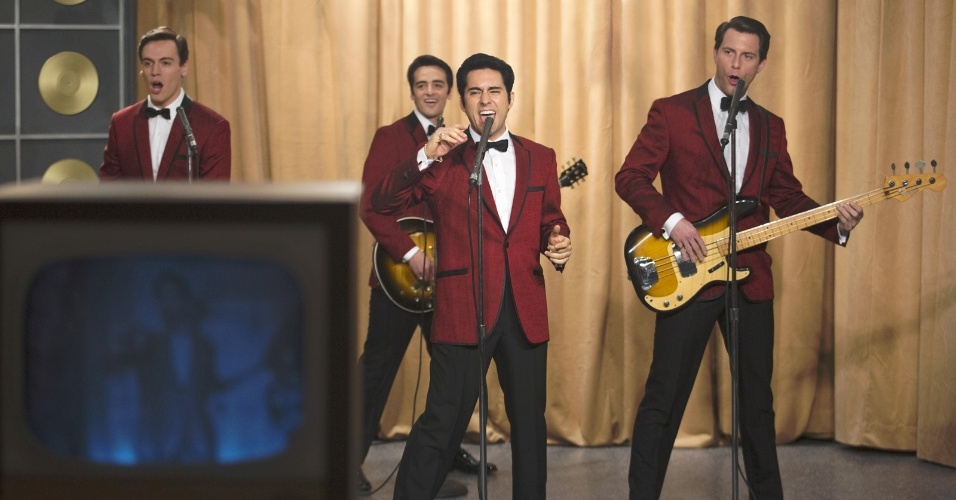 (2014)
The life and times of Frankie Valli and the Four Seasons as narrated by...um...everybody. The Tony winning play based on a true story has been turned into an odd piece of film. Clint Eastwood directs, but it feels nothing like anything he's ever done, at least nothing that I've seen. This is more like Clint Eastwood imitating Scorsese while simultaneously trying to remake that director's
GoodFellas
as a musical. As strange as that sounds, that's about the best way I can describe it. John Lloyd Young plays Valli, who is essentially the counterpart to the Ray Liotta role from Scorsese's classic. However, he doesn't narrate, usually. Most of that is handled by Vincent Piazza as Tommy DeVito. This role comes off as a hybrid of the ones famously played by Robert De Niro and Joe Pesci. Strange coinkydink that Pesci's character in
GoodFellas
is also named Tommy DeVito. Anyhoo, everyone else in
Jersey Boys
is a secondary gangster and most get their turns to narrate, as well. Thankfully, when we get to the music, these guys are singing some of the most popular songs of all time so that works, depending on your tolerance for the catalogue of The Four Seasons. Following
Get on Up,
about James Brown and
Jimi: All is by my Side
about Jimi Hendrix, this continues the run of weak musical biopics we've had the last few years.
Carlito's Way: Rise to Power
(2005)
When he gets out of jail, young Carlito (Jay Hernandez) aligns himself with his former cellmates Early (Mario Van Peebles) and Rocco (Michael Kelly) and take over a portion of the 1960s heroin trade in Harlem. This is a prequel to 1993's
Carlito's Way
which starred Al Pacino. This movie tries hard but falls short. Far short. The writing introduces interesting things but does not or cannot flesh them out enough to turn this into a good movie. It wants to be a gangster-epic in the fashion of its predecessor, but its meager run-time (100 minutes) limits what it can accomplish. We get little character development and those characters make decisions that could be effectively built up to in a longer movie, but come off as totally irrational actions only there propel us into the next act. Sadly, things take a serious nosedive once Luis Guzman enters the movie. He had a major role in the original and is here as a hitman, but his needlessly goofy character turns things into Cheech and Chong style drug-humor. Some of it is actually funny but its all way out of place, giving the whole movie a cheesy quality. This is coming from a guy who really likes Luis Guzman, too. As far as the rest of the cast goes, they're actually not bad. There are enough typecast gangster actors to fill out the that portion of the cast and they do a good job. The other portions are mostly filled with people who are merely adequate. Mario Van Peebles, whom I generally don't consider a good actor, is actually decent here. Our lead is a bit of a problem. He's not bad but when taking over a role created by a legend its near-impossible to do a good enough job for viewers unless you're Robert DeNiro stepping in to play a young Vito Corleone after Brando did the senior citizen version. Jay Hernandez is okay, but he's no Bobby D. Yes, I've spent more time on this movie than it deserves. That's because the original is one of my faves so this one got the fine-tooth comb.
(2015)
An explosion at a Chinese nuclear plant is caused by a hacker in a remote location. Shortly thereafter, the Chicago Stock Exchange is hacked. Authorities in China and the U.S. decide the two incidents were caused using the same code and to work together. The Chinese rep Captain Chen Dawai (Leehom Wang) enlists his sister Chen Lien (Tang Wei) for help and both are assigned to work under the leadership of FBI Agent Carol Barrett (Viola Davis). There's one more piece to this puzzle. Dawai forces the Americans to bring in the original author of the code which was modified and used for these attacks. That guy is
Thor
Nicholas Hathaway (Chris Hemsworth). He also happens to be Dawai's old college roommate. And he's also serving a lengthy sentence for unrelated cyber-crimes. The get him out and he essentially takes over the investigation. Since this is all about hackers, our hero spends lots of time dodging thugs with guns, naturally. Therein lies the problem. The entire production shows a lack in confidence in its own premise and constantly tries to dress it up, either with typical action stuff (love affair included), or overly stylish visuals that add nothing. All of it is delivered through mouthfuls of pseudo-technical exposition. Other than Hemsworth, our capable cast has very little to do, rendering them all stock characters. It doesn't help that our hero is pretty darn perfect throughout the film. All of this makes
Blackhat
a rather ho-hum viewing experience that you're likely to forget as soon as it ends.
The Man With the Iron Fists 2
(2015)
Thaddeus (RZA), aka The Blacksmith, is on a quest for inner peace. As tends to happen to such guys in kung fu flicks, his violent past catches up to him, first. This happens in the form of the brother of the guy he took down in the first movie.They beat him up pretty bad and drop him in the river. Further down that river, we meet a group of villagers. kinda sorta led by Li Kung (Dustin Nguyen) who toil away in the silver mines under the thumb of the sadistic tyrant Master Ho (Carl Ng). The two storylines collide when ladies from the village find Thaddeus floating in the river. It's got a number of really excellent martial arts scenes. These carry the movie because the rest of it is missing both the sense of wonder and fun of the first film. It simply takes itself far too seriously. Those that made the original enjoyable are gone and sorely missed, Russell Crowe and Lucy Liu chief among them. This film basically removes everything that gave the first movie it's own personality and settles on average.
Click Below For More Quick and Dirties