I don't know about where you live, but around here it's been rather dreary. The good Lord, or Mother Nature, or Al Gore has painted the sky with the drabbest of grays which has persisted for days. Hopefully, the sun will come out tomorrow. I don't think I'll bet my bottom dollar that tomorrow, there'll be sun, but who knows. When it does, maybe a colorful arc will appear in the sky. Then I can look somewhere over the rainbow, way up high, and the dreams that you dreamed of once in a lullaby and see the blue birds fly.
If you've been paying attention, you really know that I have a quirky sense of humor. You can probably skip the rest of this paragraph. If you're a normal person, and not quite sure of what's going on, don't worry. I'll explain. The latest incarnation of
Annie
is about to hit the big screen and, of course, "Tomorrow" is the production's most iconic song. After twisting up some its lyrics, I was now thinking of musicals. Naturally, Annie singing "Tomorrow" isn't a far cry from Dorothy...or Patti LaBelle...belting out "Somewhere Over the Rainbow." Yeah, I desecrated those lyrics, too. All of this begs the question, why was I thinking about
Annie
, anyway?
The reason I had
Annie
on the brain, I mean reasons with an "s," is because the trailer just played on TV in my house and the wonderful theme provided to us for this week's
Thursday Movie Picks hosted by Wanderer at Wandering Through the Shelves
. This week, we're talking movies adapted from plays. Cool. I can ratttle these off like nothing.
Annie, Dreamgirls, Grease, Little Shop of Horrors, Hamlet, Romeo and Juliet, Much Ado About Nothing, Othello, Sweeney Todd...
this is easy.
Oh, wait...rules...what?
Yes, boys and girls, Wanderer played a trick on me and threw some rules into the mix. Well, there's really only one rule. Obey it, anyway. It's a simple one, so that helps. None of the three movies selected are allowed to be either a musical, or adapted from the work of Shakespeare.
Woah, woah, woah!
Whaddya mean, no musicals?
Are you telling me there are movies adapted from plays that aren't musicals or Shakespeare? I don't believe you. I'm whistling to distract you while I open another tab and do a quick search for "movies adapted from plays." Well, I'll be damned. Whaddya know? There are some.
Okay, fine.
In protest of not being able to suggest a cheery musical or dust off my dazzling knowledge of Shakespeare, I'm only picking movies made before I was born. I know that's a weak protest, but deal with it. Besides, these movies are all great.
(1951)
Adapted from A Streetcar Named Desire by Tennessee Williams
It's simple, really. Blanche is having some personal issues so she travels from Mississippi to New Orleans to visit her sister Stella. There's a couple things wrong with this picture. Stella has some serious problems of her own. One of those problems is her caveman of a husband, Stanley. Here, we blessed to witness Marlon Brando give one of cinema's greatest performances. It's widely credited with introducing the world to method acting. You know what else? All three of his main castmates, Vivien Leigh, Karl Malden, and Kim Hunter all won Oscars for their work, here, but Brando did not. Hmph. Stupid Academy.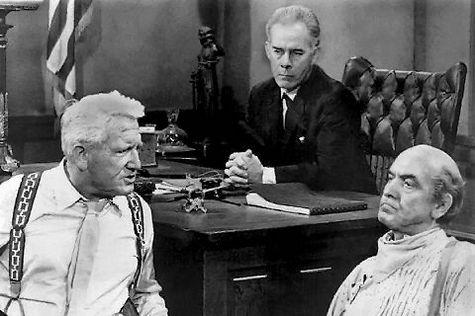 (1960)
Adapted from Inherit the Wind by Jerome Lawrence and Robert Edwin Lee
Speaking of great performances, we get a double dose of them, here. Frederic March as the blustery lawyer Matthew Harrison Brady takes on Spencer Tracy as the much more subtle Henry Drummond. Both are magnificent. The two men are arguing the legality of teaching the theory of evolution in a world where it is punishable by law to do so. Though that particular subject is no longer playing out in our courts, Evolution vs. Creation is still something many people debate. Therefore, despite the black and white picture and stodgy old white men everywhere, the movie doesn't feel as dated as it probably should.
(1961)
Adapted from A Raisin in the Sun by Lorraine Hansberry
Yes, great performances are definitely a theme within the theme this week. This time, we get Sidney Poitier as Walter and the recently late, but still great Ruby Dee as his wife Ruth. They are a struggling couple with a young son and living in an apartment with Walter's mother and sister. So yeah, it's crowded in there. They're trying to figure out how to change their station in life and all around getting on each other's nerves. It's another wonderful piece of art that touches on many things that were going in American society. Some of them are still going on.