The NFL season kicks off tonight and the college kids are already underway. Your TV schedule, or at least mine, is set through the fall and most of the winter. College on Saturday, the pros on Sundays and Mondays and back to college on Thursday and Friday. If you're really a die hard, you'll watch North South State vs. East West Tech on Tuesday and Mayberry Community College square off against Farmville Vocational School on Wednesday. Otherwise, these are the two days you'll spend combing the web for any info that might help your fantasy team. You can also use this time to squeeze in some gridiron flicks. To help out, these are...
My 11 Favorite Football Movies of All-Time
(1999)
Xs & Os:
In a small Texas town, the local high school team feels the pressure from their fanatical fan base. It's a fan base mostly comprised of their own parents. It's more fun than the other Texas movie on this list with a lot more silliness going on, but it still sticks the landing.
Vince Lombardi Moment:
"If we go out and half-ass it 'cause we're scared, then we'll always wonder if we were really good enough. But if we go out there and give it all we've got...that's heroic. You guys wanna be heroes?" (Mox)
Extra Point:
Yes, this is the movie that gave us the infamous whipped cream bikini.
(2003)
Xs & Os:
A local high school team in Anderson, South Carolina takes in a developmentally challenged man played by Cuba Gooding Jr. In turn, he takes them into his heart and they propel one another. You have to have a cold heart for this not to get to you at least a little bit.
Vince Lombardi Moment:
"It's never a mistake to care for someone. That's
always
a good thing!" (Linda)
Extra Point:
My wife's cousin is from Anderson, SC and has met the real Radio.
(1978)
Xs & Os:
Warren Beatty stars as the quarterback of the Los Angeles Rams who was taken from his own body accidentally by an over-anxious angel. He is returned to Earth in the form of a millionaire who has just been murdered. Another of those funny yet touching stories based on the gridiron.
Vince Lombardi Moment:
"I have no illusions. I know the life I lived. I know where I belong. I'd like to get it over as quickly as possible." (Joe Pendleton)
Extra Point:
Pendleton led this team to the Superbowl. One year later, the real Los Angeles Rams, led by Vince Ferragamo, would make it to the big game for the first time in franchise history.
8. Any Given Sunday
(1999)
Xs & Os:
Oliver Stone directs Al Pacino, Jamie Foxx, Cameron Diaz, LL Cool J, Bill Bellamy, Matthew Modine, real life football legend Lawrence Taylor, and a host of others in this incendiary look at the season of high profile professional team. It's one of those movies that's so over-the-top in some places you can't help but love it.
Vince Lombardi Moment:
"You find out life's this game of inches, so is football. Because in either game - life or football - the margin for error is so small. I mean, one half a step too late or too early and you don't quite make it. One half second too slow, too fast and you don't quite catch it. The inches we need are everywhere around us. They're in every break of the game, every minute, every second. On this team we fight for that inch. On this team we tear ourselves and everyone else around us to pieces for that inch. We claw with our fingernails for that inch. Because we know when you add up all those inches, that's gonna make the fucking difference between winning and losing! Between living and dying! I'll tell you this, in any fight it's the guy whose willing to die whose gonna win that inch, because that's what living is, the six inches in front of your face. Now I can't make you do it. You've got to look at the guy next to you, look into his eyes. Now I think you're going to see a guy who will go that inch with you. You're gonna see a guy who will sacrifice himself for this team because he knows when it comes down to it you're gonna do the same for him. That's a team, gentleman, and either, we heal, now, as a team, or we will die as individuals. That's football guys, that's all it is. Now, what are you gonna do?" (Coach D'Amato)
Extra Point:
Watching Cameron Diaz try to keep a straight face as she walks into a lockerroom full of naked guys, some of whom are quite literally hanging to their knees, is possibly the greatest moment in cinematic history.
(2000)
Xs & Os:
When T.C. Williams High is integrated by the law in 1971 tensions at the school mount considerably. Nowhere is that tension more evident than on the football field where Coach Boone, played by Denzel Washington, has taken over. As the first Black coach in the history of the conference & the first integrated school in the conference he has his work cut out for him.
Vince Lombardi Moment:
"Tonight we've got Hayfield. Like all the other schools in this conference, they're all white. They don't have to worry about race. We do. Let me tell you something: you don't let anyone come between us. Nothing tears us apart. In Greek mythology, the Titans were greater even than the gods. They ruled their universe with absolute power. Well that football field out there, that's our universe. Let's rule it like titans." (Coach Boone)
Extra Point:
Coach Yoast's (Will Patton) daughter is played by a then pre-teen Hayden Panettiere.
(1971)
Xs & Os:
Two Chicago Bears running backs, one Black (Gale Sayers played by Billy Dee Williams), one White (Brian Piccolo played by James Caan) compete for the same spot, become roommates and eventually close friends. Like most of this list, it's based on a true story but it's the only made for TV movie to make the cut. Truth is, it's nearly impossible not to get choked up by the time it ends. It was remade in 2001 by Disney.
Vince Lombardi Moment:
"I'd like to tell you about a guy I know, a friend of mine. His name is Brian Piccolo. And he has the heart of a giant, and that rare form of courage that allows him to kid himself and his opponent, cancer. He has a mental attitude that makes me proud to have a friend who spells out the word 'courage,' 24 hours a day, every day of his life. Now you honor me by giving me this award. But I say to you here now, Brian Piccolo is the man who deserves the George S. Halas award. It is mine tonight... and Brian Piccolo's tomorrow." (Gale Sayers)
Extra Point:
Louis Gossett Jr was actually all set to play Gale Sayers. However, days before shooting began he tore his Achilles Tendon and Billy Dee Williams was brought in.
(2004)
Xs & Os:
The Permian High Panthers carry the hopes & dreams of Odessa, Texas on their shoulders. Billy Bob Thornton stars as Coach Gaines who tries to cope with the immense pressure from the townspeople while helping the boys do the same and win football games in the process.
Vince Lombardi Moment:
"Being perfect is not about that scoreboard out there. It's not about winning. It's about you and your relationship with yourself, your family and your friends. Being perfect is about being able to look your friends in the eye and know that you didn't let them down because you told them the truth. And that truth is you did everything you could. There wasn't one more thing you could've done. Can you live in that moment as best you can, with clear eyes, and love in your heart, with joy in your heart? If you can do that gentleman - you're perfect!" (Coach Gaines)
Extra Point:
Derek Luke plays injured star player Boobie Miles. The real Boobie Miles plays an assistant coach in the movie & is very purposefully shown standing next to Luke during halftime of the last game.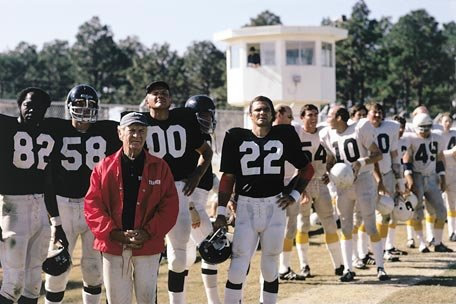 4. The Longest Yard
(1974)
Xs & Os:
Former pro quarterback Paul Crewe is now serving time in prison when he's asked by the warden to put together a team of inmates to play the guards. The idea is for the inmates to get destroyed by the guards. One of Burt Reynold's best movies. It was remade in 2005 starring Adam Sandler with a cameo by Reynolds. The remake is fun but no comparison.
Vince Lombardi Moment:
"Alright men, now here's the play we're gonna use. I don't think the guards know this formation. It's called 'incidental punishment after the ball is blown dead.' Remember, any man you tackle gets an elbow, knee, or kick in the mouth." (Granville)
Extra Point:
The cast includes former pro football players Ray Nitschke, Mike Henry, Joe Kapp and Pervis Atkins. Reynolds himself played football at Florida State & was drafted by the Baltimore Colts.
(1979)
Xs & Os:
Nick Nolte stars as wide receiver Phil Elliot, a man struggling to keep his football career afloat despite having to deal with age and injuries. And he doesn't always deal with them in the most ethical ways.
Vince Lombardi Moment:
"
People who confuse brains and luck can get in a whole lot of trouble. Seeing through the game is not the same as winning the game." (Conrad Hunter)


Extra Point: The movie is based on a novel by the same name by Peter Gent. Mr. Gent's book is based on his real-life experience as a Dallas Cowboy.
Xs & Os: Little Rudy Ruettiger tries to fulfill his lifelong dream of playing college football for Notre Dame. Impossible not to get choked up. It's my personal mission not to cry over a movie. Usually, that's a fairly easy thing but I admit to fighting back a tear or two over this one.


Vince Lombardi Moment: "You're 5 foot nothin', 100 and nothin', and you have barely a speck of athletic ability. And you hung in there with the best college football players in the land for 2 years. And you're gonna walk outta here with a degree from the University of Notre Dame. In this life, you don't have to prove nothin' to nobody but yourself. And after what you've gone through, if you haven't done that by now, it ain't gonna never happen. Now go on back." (Fortune)


Extra Point: There's a great scene in which members of the team throw their jerseys on the coach's desk as a protest of Rudy not being allowed to suit up. That never actually happened. Oh, by the way, the real Rudy is shown as a fan in the stands during the last game.
Xs & Os: Coach Bill Courtney and his Manassas Tigers try to become the first team in the school's 100 plus year history to win a single playoff game...and learn some valuable life lessons along the way.


Vince Lombardi Moment: Remember the things that carry you are the things you've been taught: character, discipline. And remember, please, remember if you've ever remember anything from me the last six years, the true measure of a man's character is how he handles this. Anybody could be a champ. It takes a man to stand up when this thing hits you in the mouth, because it hurts. I am proud to be Manassas Tiger, and I'm proud of you."


Extra Point: Though it went on to win the Oscar for best documentary, it started its cinematic life being rejected by the prestigious Sundance Festival.