For this next category, you'll find that this is where I'm probably most divergent from the Academy's thinking. That's mainly because I slid two of the nominees over to the Best Actress category, as I explained in that post, and dropped another out of the running. Hey, I did say these were my awards, right? Anyhoo, on with the show...
2012 Best Supporting Actress
The Real Nominees: Amy Adams (The Master), Sally Field (Lincoln), Anne Hathaway (Les Miserables), Helen Hunt (The Sessions), Jacki Weaver (Silver Linings Playbook)
My Nominees:
Gina Gershon, Killer Joe
Gina Gershon is thoroughly skanky. She's practically the epitome of trailer trash royalty.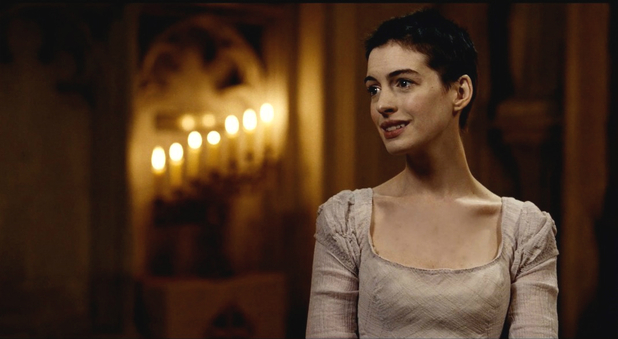 Anne Hathaway, Les Miserables
We get a wonderful turn by Anne Hathaway. In just a handful of scenes, she gives us a gut-wrenching few minutes of screen time.
Charlize Theron, Snow White and the Huntsman
She seethes, hisses and vampirically gains strength by literally draining it from others. Like the bloodsucker, she earns both our dread and the pity we reserve for one whose seemingly boundless power is really fueled by a fatal flaw.
Jacki Weaver, Silver Linings Playbook
Weaver does an excellent job conveying her character's raggedness from being pulled to and fro. She tries to do right by everyone and often winds up little more than an enabler.
Rebel Wilson, Pitch Perfect
A sizable share of the movie's funniest moments are hers. Her timing is rock solid and she has charisma to spare.
Honorable Mention
Samantha Barks,
Les Miserables
Ann Dowd,
Compliance
Carmen Ejogo,
Sparkle
America Ferrera,
End of Watch
Maggie Smith,
The Best Exotic Marigold Hotel
The Real Winner: Anne Hathaway,
Les Miserables
And My Winner Is...
Rebel Wilson, Pitch Perfect
This might be the best comedic performance of the last few years including 2011's Oscar nominated turn by Melissa McCarthy in Bridesmaids.